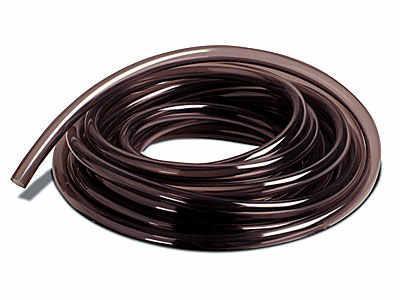 (NON-MEMBER PRICE)

Click Here to Sign up
$ 0.00
Alpine PVC Vinyl Tubing (Black)
Model: V0127PBK
| | | | | | | |
| --- | --- | --- | --- | --- | --- | --- |
| Item | I.D. in. | O.D. | Wall Thickness | | Weight per Lb/ Coil | Unit Length |
| V0127PBK | 1/2" | 3/4" | 1/8" | 45 | 11 | 100 |
| V0347PBK | 3/4" | 1" | 1/8" | 35 | 19 | 100 |
| V0017PBK | 1" | 1-1/4" | 1/8" | 28 | 28 | 100 |
| V01147BK | 1-1/4" | 1-1/2" | 1/8" | 25 | 16 | 50 |

*Please Note: Other sizes and custom cut lengths are available upon request. All items are shrinkwrapped.
Manufacturer's Description
Hose Name: PVC Vinyl Tubing
Tube: PVC Non Toxic
Reinforcement: None
Cover: Single Wall
Color: Black
Temperature Range: +25F to +150F
Features:
Clear transparent design
Application & Coupling:
Use for fountains, ponds, aquariums, air conditioning and refrigeration condensate drain, condensate pump discharge lines, humidifier overflows, spas and many more industrial and domestic uses.