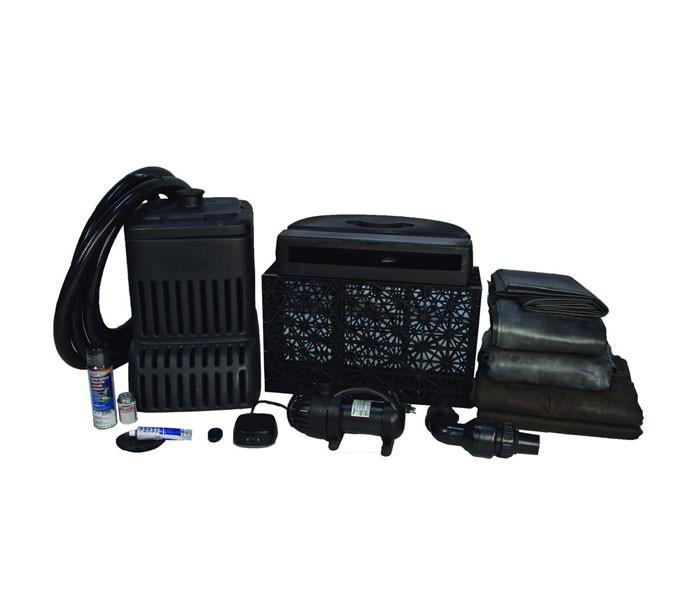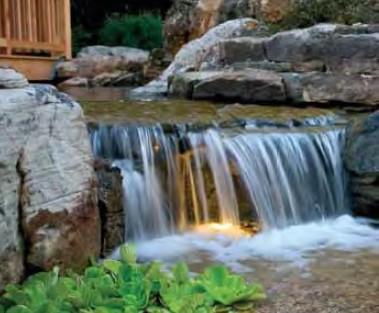 (NON-MEMBER PRICE)

Click Here to Sign up
$ 0.00
AquascapePRO Pondless Waterfall Kit
Model: 53038
Waterfall Kits are a great way to be introduced to the Aquascape Pondless Waterfall Vault and Waterfall Spillway!

ONE BOX WITH EVERYTHING YOU NEED...AND BEST OF ALL, YOU SAVE MONEY!
The most cost-effective way to buy your Pondless Waterfall components!
Kits save up to 20% when compared to buying all of the Pondless Waterfall components separately
Kits ensure that you have everything you need on the job site, making sure your installation is more efficient and more profitable.
Small (6 ft. Stream & AquaSurge PRO 2000-4000

Medium (16 ft. Stream & AquaSurge PRO 2000-4000)

Medium (16 ft. Stream & Tsurumi 3PL)

Large (26 ft. Stream & Tsurumi 5PL)

Large (26 ft. Stream & Aquascape 4000-8000)

creates up to 6 ft. stream

creates up to 16 ft. stream

creates up to 16 ft. stream

creates up to 26 ft. stream

creates up to 26 ft. stream

10' x 10' Liner Underlayment (100 sq. ft.)

10' x 12' Liner Underlayment (120 sq. ft.)

10' x 12' Liner Underlayment (120 sq. ft.)

12' x 15' Liner Underlayment (180 sq. ft.)

12' x 15' Liner Underlayment (180 sq. ft.)

10' x 8' Stream Liner

10' x 20' Stream Liner

10' x 20' Stream Liner

10' x 30' Stream Liner

10' x 30' Stream Liner

Pondless® Waterfall Vault

Pondless® Waterfall Vault

Pondless® Waterfall Vault

Pondless® Waterfall Vault

Pondless® Waterfall Vault

Waterfall Spillway

Waterfall Spillway

Waterfall Spillway

Pondless® Waterfall Vault Extension

Pondless® Waterfall Vault Extension

(3) Small AquaBlox®

(5) Small AquaBlox®

(5) Small AquaBlox®

Waterfall Spillway

Waterfall Spillway

AquaSurge

® PRO 2000-4000 Pump

AquaSurge

® PRO 2000-4000 Pump

Tsurumi 3PL Pump

(5) Small AquaBlox®

(5) Large AquaBlox®

1.5" x 25' Flexible PVC Pipe

2" x 25' Flexible PVC Pipe

2" x 25' Flexible PVC Pipe

Tsurumi 5PL Pump

AquaSurge

® PRO 4000-8000 Pump

Pump Check Valve Assembly and Installation Kit

Pump Check Valve Assembly and Installation Kit

Pump Check Valve Assembly and Installation Kit

2" x 50' Flexible PVC Pipe

2" x 50' Flexible PVC Pipe

Get Your Feet Wet Door Hangers

Get Your Feet Wet Door Hangers

Get Your Feet Wet Door Hangers

Pump Check Valve Assembly and Installation Kit

Pump Check Valve Assembly and Installation Kit

(2) 1-Watt 12V LED Waterfall Lights

(2) 1-Watt 12V LED Waterfall Lights

Get Your Feet Wet Door Hangers

Get Your Feet Wet Door Hangers

60-Watt Transformer w/ photocell

60-Watt Transformer w/ photocell

(3) 1-Watt 12V LED Waterfall Lights

(3) 1-Watt 12V LED Waterfall Lights

3-Way Splitter & 25'LVL Extension Cable

3-Way Splitter & 25'LVL Extension Cable

60-Watt Transformer w/ photocell

60-Watt Transformer w/ photocell

3-Way Splitter & 25'LVL Extension Cable

3-Way Splitter & 25'LVL Extension Cable