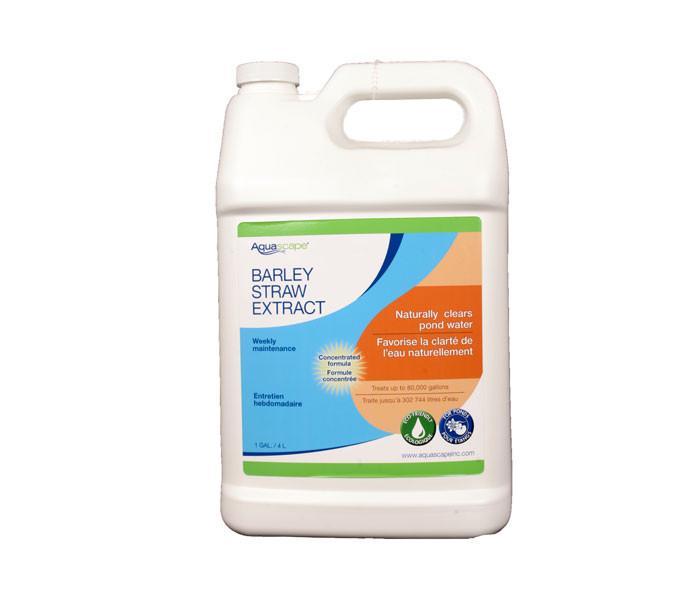 (NON-MEMBER PRICE)

Click Here to Sign up
$ 0.00
Aquascape Barley Straw Extract/Liquid - 3.78ltr/1 gal
Model: 96012
New, Improved and Reformulated AquaClearer
Aquascape's Beneficial Bacteria helps keep your pond water clean, balanced and healthy. By adding this concentrated bacteria to your water garden, a biological balance is created or maintained in your pond's ecosystem.

You'll spend less time cleaning and maintaining your pond and more time enjoying it.
Eight kinds of beneficial bacteria
Includes PSB-Photo Synthetic Bacteria  
Will not cloud water- totally dissolves
Concentrated - 1 billion Colony Forming Unit's per gram (CFU)
It's easy to figure out how much to use-just one scoop for each 1000 gallons.  We like to add the bacteria right in front of the skimmer, but any fast moving water works.  The best advice is to treat your pond (so the bacteria colonies form) before you see any problems.  Treat daily for the first ten days, then once per week.
4.4 ounce size treats up to 26,000 gallons
8.8 ounce size treats up to 52,000 gallons
1.1 pound size treats up to 104,000 gallons
7 pound size treats up to 664,000 gallons
9 Pro pound size treats up to 1,170,000 gallons  (25% more concentrated)

Manufacturer's Description
Aquascape Beneficial Bacteria contains 8 pure strains of concentrated beneficial bacteria, including PSB bacteria and enzymes. This combination of natural cleaners helps to maintain a strong biological balance in your pond. Aquascape Beneficial Bacteria maintains a strong biological balance providing clean, clear and healthy water conditions.