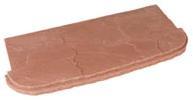 (NON-MEMBER PRICE)

Click Here to Sign up
$ 0.00
Aquascape MicroFalls Simulated Waterfall Stone -Aquascape
Model: 60021
The MicroPond Kits from Aquascape are perfect for building your first serious water garden (or your second or third, too).  Aquascape really made it easy with these kits by including all the components you need.

These kits are designed to be easy to install and maintain as well as efficient (the new AquaSurge 2000 pumps use 63% less electricity and have 20% more flow!)

Here's a partial list of the components:
Owner's manual and installation instructions
MicroSkim Skimmer - this skimmer is a great addition to your pond because it helps remove the leaves and other debris off of the surface of the water before it can sink and become sludge.  It also provides a protected home for your pond's pump.
AquaSurge 2000 GPH Pump - a powerful and efficient pump that provides enough water flow to keep your pond's ecosystem healthy and your water features looking and sounding great.
MicroFalls - this filter also serves as the mouth of your waterfall.  It's designed to be the ideal place for the beneficial bacteria in your pond to live.
25' of special kink-free hose (1 1/2" diameter) - this hose is the perfect match for this size pond and pump flow.
Premium 45 millimeter EPDM fish safe pond liner - guaranteed for 20 years.
Geotextile underlayment - underlayment is important because it provides padding between your liner and the ground, helping to prevent punctures and other leaks.
All the plumbing, fittings, sealants, etc.
The MicroPond kits are available in three sizes:
4' x 6' -- Comes with an 8' x 10' liner and holds about 250 gallons
6' x 8' -- Comes with an 10' x 12' liner and holds about 500 gallons
8' x 11' -- Comes with an 12' x 5' liner and holds about 1,000 gallons
Manufacturer's Description
Take the guesswork out of trying to assemble the perfect combination of equipment and liner to create a stunning water garden. The only thing that is missing in this kit is rock, plants and a little imagination. All MicroPond Kits come complete with the following components: MicroSkim - Removes leaves and debris from the surface of the pond and provides protection for your pump. MicroFalls Filter - Provides complete biological filtration. AquaSurge2000 waterfall pump and plumbing assembly. 25 feet of 1 _" quality kink-free hose. Pond Liner made from quality EPDM 45 mil fish safe rubber - 20 year guarantee! Geotextile underlayment - Protects liner from sharp objects. All necessary fittings and silicone sealants. Complete installation instructions and owner's manual.