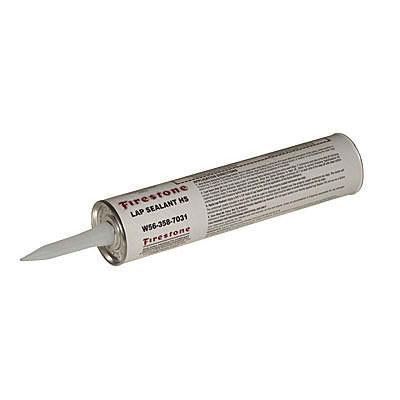 (NON-MEMBER PRICE)

Click Here to Sign up
$ 0.00
Firestone Lap Sealant HS
Model: W563587031
Firestone Lap Sealant HS Method of Application
Surfaces to which Firestone Lap Sealant HS is applied must be clean, dry, free of foreign materials and excess dusting agent. Clean with broom or rags if necessary.
Wait Before Applying Seam Edge Treatment
Wait to apply seam edge treatment a minimum of 4 hours after completion of a flashing unless weather is threatening. If weather is threatening, apply Firestone Splice Adhesive to the edge of the flashing splice (next step below) before leaving the project. If weather is not threatening, the seam edge must be applied no later than the end of the next day following the completion of the seam. 
Coat Flashing Step-Off:
Apply a layer of Firestone Splice Adhesive along the entire seam edge, a minimum of 1" on each side of the step-off following current Firestone Splice Adhesive application procedures. Allow the Splice Adhesive to flash off.

Note
: If the seam edge has been contaminated, clean the seam edge a minimum of 1" on each side of the step off with Firestone QuickPrime Plus and allow to dry, prior to application of the seam edge treatment. 
Apply Firestone Lap Sealant HS


Apply a continuous bead of Lap Sealant HS approximately 3/8" x 1/4" centered over the flashing seam edge, using the plastic nozzle applicator supplied by Firestone. Be sure to keep the nozzle applicator centered over the lap step off. Refer to seam details.
Firestone Lap Sealant HS Coverage Rate
Approximately 20-22 linear feet of 3/8" x 1/4" bead per 11 oz tube
Manufacturer's Description
Firestone Lap Sealant HS is designed to be used with Firestone Splice Adhesive for seam edge treatment applications and as a sealant in other applications as indicated by current Firestone Specialty Products specifications and details.